Visual Components – Content strategy fueling business growth
Visual Components is one of our oldest clients, and our cooperation has been extensive and diverse – from strategy work to building a website. Visual Components is a leading developer of 3D manufacturing simulation software. Their simulation software has helped design factories and production lines since the start of the millennium.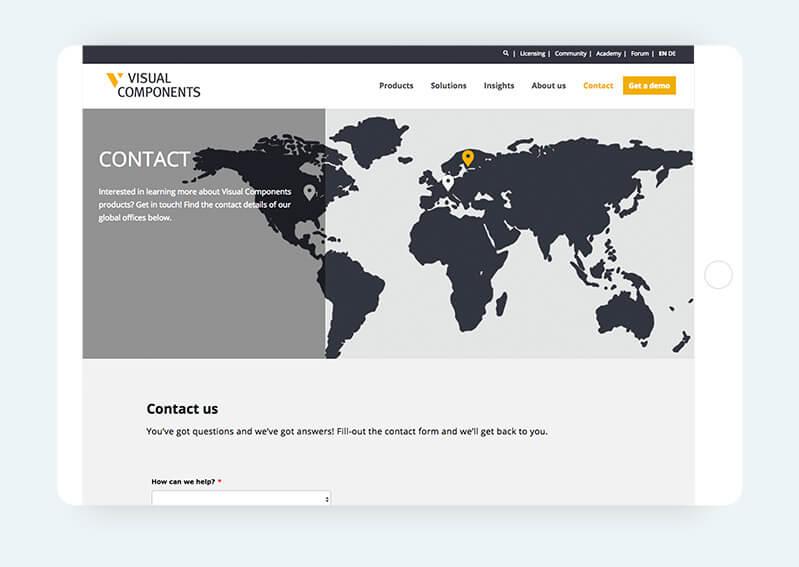 Strategy work and multiplied leads
Visual Components has a mission: to set the standard in production simulation. Their simulation software allows you to visualize and simulate a production line before it's built. The model can then be used to help in decision making and risk management. Visual Components strives to create a software that is easy to use and available for all production companies – no matter the size.
Visual Components presented us at Paper Planes a challenge which came in two parts. First, they wanted to get more leads through their website and digital marketing. Secondly, they wanted our help in communicating the Visual Components mission as well as branding.
CONTENT – THE KEY TO SUCCESS
We took up the challenges by creating a content strategy and a concept for the Visual Components website. We werealso in charge of the production of the website, after which we moved to continuous development and updates. We also worked with branding and communications, renewing their entire strategy and brand, working tightly together with Visual Components. One of main focuses was to better communicate the company mission to external target groups.
With the concept work, we crystallized the core of the content strategy and the mission of Visual Components. The slogan 'Factories of the future' was born and quickly became a mission statement for Visual Components. The new content strategy was used as a basis for the website renewal and new marketing materials. When the groundwork was laid in these projects, we went on to build Visual Components Academy, an educational website for various stakeholders.
FROM WILD IDEAS TO CONCRETE RESULTS
Our cooperation with Visual Components started from strategic planning and creating the basis for all of the company's marketing actions. Once this was done, it was time to implement concrete marketing actions. During our cooperation, the average number of sales leads coming through the website has increased by approx. 500 %. We continue to support Visual Components in search engine marketing and website optimization, and we support their Growth-Driven Design development.
TOWARDS NEW CHALLENGES – TOGETHER
Our long-term marketing cooperation combined with Visual Components' cutting-edge solutions have led to fantastic outcomes. These great results reinforce Visual Components' position as the leader of their field. The collaboration has been a true pleasure and fruitful for both parties.The work continues and we are looking forward to more excellent results.