VR – On the same track towards user-friendly content
VR Group is a state-owned company best known for its railway services. Paper Planes has been a content partner of VR since December 2015, helping VR produce and maintain quality content.
On the same track – VR
The partnership between VR and Paper Planes has always been marked by diversity. Our long, shared journey makes the partnership smooth and efficient. We have produced content for hundreds of pages, done versatile graphic design, handled content management, monitored website analytics, and planned extensive content projects.
The goal of all the communication is to express complex information in a clear and simple way. Whether it is designing flag icons or creating campaign landing pages, the point of view of the train commuter is always the guideline.
Close-knit content partnership
Updating and maintaining content on the massive VR website has always been one of the main aspects of our content partnership. We have updated existing digital content and streamlined the information architecture of the website. We also create marketing content that drives people to buy train tickets to various events. The user is always in focus when updating the information architecture of the website.
Extensive partnership in graphic design
The graphic design partnership between VR and Paper Planes is multifaceted. We use the VR identity to produce fresh and interesting marketing material.
We have redesigned various maps for VR, such as station, track work, car-carrier train, and route maps. We have also created a new visual identity for VR's maps that makes them clearer and better suited for the brand colors. We made the schedule posters clearer and easier to read, while also integrating them to the visual brand identity.
Working on various campaigns has been a part of our partnership from the beginning. For the VR Lähijunat mobile app, we created marketing material that informed the customers about the new app and its easy-to-use ticket shop feature. The visual elements and identity were designed to reflect the playful and user-friendly nature of the app.
In addition, we have produced infographics for internal use to support content production and design.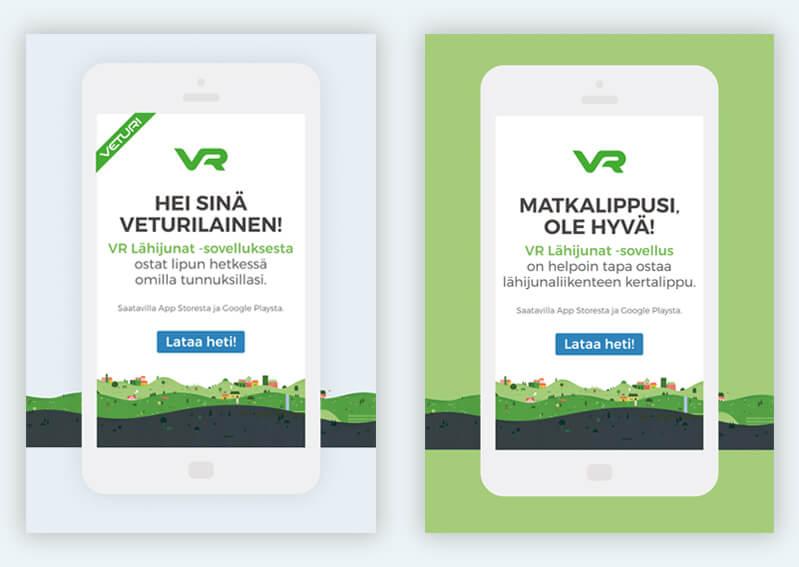 Together towards the future
Working with VR has always been enjoyable and productive. Their professionals are easy to work with, as they have vast knowledge and expertise. In the future, we will work on wide-ranging projects concerning content and graphic design. Together we will accomplish good results with clear-cut marketing solutions – sometimes on a tight deadline.